Bose Professional had announced ControlSpace Designer software (CSD) version 5.0.1, adding features, tools and algorithms to assist designers in the creation of versatile audio systems.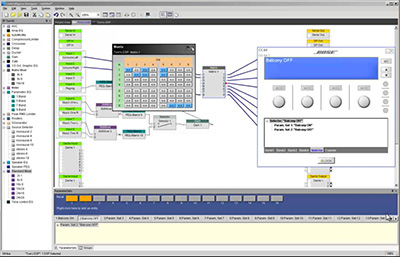 ControlSpace Designer software 5.0.1 provides all the necessary tools and functions to configure both audio processing and network operation of Bose ControlSpace processors, endpoints and PowerMatch amplifiers. CSD 5.0.1 includes specific functions aimed at streamlining the workflow of audio conferencing installations with the new ControlSpace EX conferencing processor and under-table Dante endpoints.
New functionality:
Support for the ControlSpace EX-1280C conferencing processor including new DSP blocks: Acoustic Echo Canceller, VoIP, PSTN/POTS, USB, Conference Room Router, Room Combine Group, Enhanced AGC, linkable gated and gain-sharing auto-mixers, simplified logic control and AmpLink.
Support for Panaray MSA12X modular steerable array loudspeaker including a new MSA12X device block, MSA12X control panel, and basic steer/spread beam steering directly from within ControlSpace Designer software.
Support for ControlSpace EX-UH, EX-4ML, and EX-8ML under-table Dante endpoints.
Support for various Dante-enabled products including popular Shure MXA910 and MXA310 microphones, Audio-Technica ATND971 and ATND8677 microphones, and Audio-Technica's ATND8734 microphone power module with Dante output.
User experience improvements such as multi-wiring, adjustable port spacing, audio routing, and an updated graphical user interface.
Additions to the Bose Loudspeaker Database: Speaker EQs added for newer EdgeMax EM90/EM180 loudspeakers and the MB210 subwoofer.
This new version of ControlSpace Designer software comes two months in advance of global availability of the Bose ControlSpace EX audio conferencing devices. This includes the ControlSpace EX-1280C conferencing processor and three Dante-based ControlSpace under-table endpoints (EX-4ML, EX-8ML and EX-UH). Designed with input from leading integrators, the system features connectivity for various types of audio conferencing, including USB, VoIP, PSTN, analogue and phone headset audio. The system will be available to ship in early April 2018; integrators can use the new ControlSpace software to design projects now, in advance of shipping.
More: http://pro.bose.com