d&b Soundscape combines d&b loudspeaker systems with object-based mixing and room emulation for the creation of a 'natural, harmonious, enveloping and emotionally engaging listening experience'.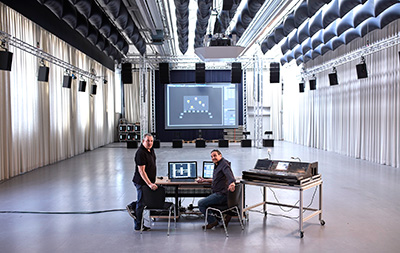 Almost five years in development and with extensive field testing by leading artists and venues, d&b Soundscape adopts a new approach to live sound mixing and system design. It enables sound system designs in which acoustic environments can be created and sound sources placed and moved.
'Soundscape fulfils a devotion we've had for decades,' says d&b audiotechnik Head of Sales Services & Application Engineering Ralf Zuleeg, the driving force behind the development of d&b Soundscape. 'The question has always been, how to give the same natural, authentic listening experience to every member of the audience? Soundscape allows us to do that.'
Whereas a stereo image only works for the fraction of an audience positioned on the centre axis between left and right sources, the d&b Soundscape claims 'an audio mix of sparkling clarity and unprecedented separation, without loss, to every audience member'. All mix elements are heard in their location on the stage.
The core of the d&b Soundscape is the DS100 Signal Engine, a high-performance audio processor with Audinate Dante networking and a powerful 64x64 level and delay matrix with extensive in- and output processing. Comprehensive operation is via two optional software modules, which together form a powerful toolkit for sound designers – d&b En-Scene and d&b En-Space. Both are accessed via R1 Remote control software.
d&b En-Scene is a sound object positioning tool allowing the individual placement and movement of up to 64 sound objects. It accurately depicts stage scenarios so that each sound object corresponds both visually and acoustically. The entire audience now hears what it sees and vice versa.

d&b En-Space is an easy-to-use room emulation tool which can add and modify reverberation signatures for any given space, giving an enriched, natural-sounding reproduction. These reverberation signatures are emulations derived from acoustic measurements of six internationally renowned performance venues and convolved within the audio processor. This results in a natural modification to the acoustic characteristics of a space, whether indoors or outdoors.
d&b Soundscape works effectively in either 180° stage proscenium set-ups or 360° configurations and has been designed to integrate with the existing d&b Workflow – systems can easily be set up and configured with d&b ArrayCalc.
The DS100 is not a closed system, it is open for integration via the AES70 (OCA) protocol with industry standard consoles and show controllers, as well as replay and tracking systems.
'Sound is a powerful communicator with a deep emotional connection to our subconscious,' says d&b audiotechnik Chief Marketing Officer, David Claringbold. 'In developing the d&b Soundscape we have envisaged a future that enhances the quality of experience for artists, audiences and engineers, extending the creative capabilities of events and venues. With Soundscape, d&b is a key contributor to an audio technology conversation that opens up a new frontier of possibility.
More: www.dbsoundscape.com