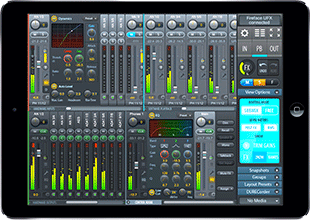 RME Audio has announced the TotalMix Remote software, offering network remote control over all TotalMix and TotalMix FX software from Mac, PC and iOS hosts.
Aimed at FOH engineers and recording studios requiring control of TotalMix from a remote location, TotalMix Remote enhances uses a straightforward set-up process –enter the IP address of the computer to control TotalRemix Remote and get going – and allows adjustment of any aspect of TotalMix FX on a host system. The remote software mirrors the state of the host system, including the entire display of the interface, the current input and output routing, and all settings including level meters.
Because TotalMix Remote is TCP-based, it minimises the burden on both the remote client and the host and boasts a very low system load and minimal latency, besting browser-based network solutions in performance. Even using standard WiFi, TotalMix Remote works quickly and seamlessly, handling rapid fader movements without lag. TotalMix Remote is also compatible with RME's ARC USB, a USB-based remote control with a rotary wheel and 15 freely programmable illuminated buttons.
More: www.rme-audio.de