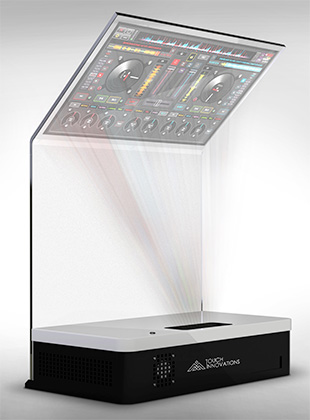 Hardware touch technology and software specialist Touch Innovations has announced the XG – an all-glass touchscreen controller.
The bezel-free design and all-glass body offer a 39-inch see-through PCAP (Projective Capacitive) touch display supporting ten simultaneous touch points. It capabilities and aesthetic are aimed at the stage – including high-end clubs' DJ booths – installations ranging from hotel lobbies to mall kiosks and museums to showrooms, gaming events and even upmarket restaurants.
Entertainment-ready, the Windows-compatible XG is available as two versions – XG Pro (with an onboard high-power Intel PC with 500GB storage for easy installation and preferred software usage) or XG Lite (without an onboard PC). Allowing for the most luxurious display, all components are conveniently sited inside the base unit, avoiding unsightly cable clutter. The Projected 39-inch display is brighter than any other touch screen system, increasing both visual attractiveness as well as legibility. Little wonder, then, that it is guaranteed to command attention in almost any environment.
Every XG system ships bundled with Emulator 2, Touch Innovations' customisable multi-touch controller software for any Midi application. Emulator 2 includes all standard objects like sliders, knobs, modulation pads, encoders and buttons. Every component is fully customisable.
'XG offers our most elegant set-up to date, bridging us into the digital signage world while retaining high-end performance for all user scenarios,' says Concludes Touch Innovations COO, Cody Myer. 'As we continue to develop hybrid hardware/software solutions for creative artists, Products like our Elite series – a DJ's dreamlike mobile marriage of road-ready, cutting-edge multi-touch technology with a massive see-through screen – and, now, our new XG models are becoming a bigger part of our business.'
XG Pro and XG Lite are available online directly from Touch Innovations at US$6,895.00 and US$5,999.00 respectively.