The Digital Audio Denmark MOM (Monitor Operating Module) provides hands-on control of the monitoring side of any DAD AX32 or DX32R using with the optional Pro|Mon|3 monitor control licence.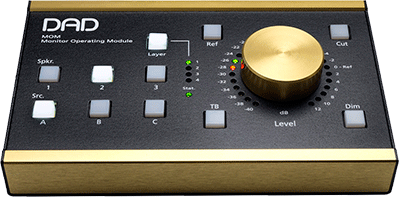 With this third incarnation of Pro|Mon, DAD takes monitor control as an integrated part of its AX32 and DX32R units to a whole new level and via the new desktop MOM Unit that offers layered control functionality, as well as easy operation directly from the work space, the control now gets tactile.
Multiple monitors and cue outputs in various channel formats can be configured and controlled from one or more hardware MOMs with individual cue mix functionality and dedicated monitor mixing, adjustable parameters include level, pan, cut, mute and downmix from, for example, for a 7.1 multichannel format. All settings and configuration can be saved and recalled, allowing monitor configurations to be changed quickly and easily.
'In a world that seems to be gradually moving towards working and mixing in-the-box, there are still situations where hands-on control is second to none,' says DAD Sales Director, Mikael Vest. 'Monitor control is one of those cases – the perfect, tactile match for one or more AX32 and DX32R units equipped with the Pro|Mon|3 monitor control licence. It simply connects via Ethernet, and the actual audio-routing magic happens within the AX32 or DX32R and is set up via the DADman software.'
The Monitor Operating Modules system is compatible with Avid MTRX units, and is available now at €995.
More: www.digitalaudio.dk