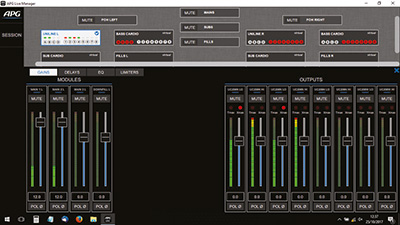 A result of the combined work of both the Active Audio and APG R&D teams, APG Live Manager remote control and monitoring software offers increased performance in a user-friendly graphic interface for control APG's full range of products – from the DMS26 and DMS48 external processors to the DA50:4 and DA15:4 DSP amplifiers.
APG Live Manager can be used offline in order to remotely prepare for any type of project, even those requiring a complex configuration, and to perform a number of background tasks from loading the loudspeaker presets to working on grouping functions. The functionality of the software divides into main areas – a configuration mode for the preparation and installation phase; a setting mode for configuration; and a control mode for live use.
The software is available for Windows and Mac devices, with a tablet version to be made available in 2018.
More: www.apg.audio