Symetrix has updated its Composer v5.6 open architecture design software.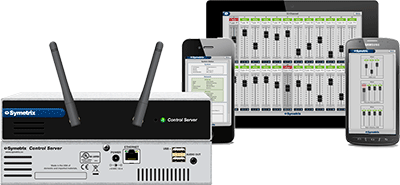 With Composer v5.6 (for Windows), the web interface diagnostic page now shows Dante-related diagnostics, and each DSP unit supports connections with up to four Shure devices. Particularly noteworthy is the addition of Juice Goose Super-modules to control Juice Goose iP Series power sequencing and control devices. These Super-modules, which feature Symetrix' custom graphic user interface, provide simultaneous user control of each individual pod, enabling the user to individually or sequentially power the pods up and down.
Control Server is a web services platform for control of network A/V systems, including Symetrix Radius, Edge, Prism and Solus NX DSPs. Programmed using Composer, Control Server offers wired connections for the A/V network and built-in Wi-Fi connectivity for control. Administer and operate from any web-connected computer or mobile device, such as tablets and smartphones. The web-based, multi-touch-enabled Symetrix app provides a user-friendly front end for user control.
Control Server comes equipped with one instance of Symetrix' Mixer app, which provides 32 channel strips, each with an assignable fader and a mute button, and offers dynamic screen-sizing and orientation for mixing events with virtually any mobile device or computer browser. Users can group and hide channels, assign custom labels and colours, and adjust the fader resolution and travel. Multi-touch functionality enables multiple faders to be adjusted at the same time.
The web-based Mixer instance can be saved to a smart device's home page for instant access, appearing as a native app. Additional instances of Mixers may be purchased as needed. Multiple users can operate the same instance of an app, and user access control can be provided via username and password security for each user. A variety of apps delivering an assortment of useful functions will be available from Symetrix in the future.
Control Server's hardware unit has a 1000 Base-T Ethernet port for Symetrix Composer host control, web-based administration, and control of devices on the A/V network. The half-rack space unit mounts in a standard 1U-high rack tray (an optional, half-rack filler panel is available), or can be used with an optional half-rack surface-mount bracket all available from Symetrix. Power is delivered by an external 12V DC adapter.
Symetrix' USB Audio Card for Radius and Edge DSPs enables audio devices connected to these DSPs to send audio to, and return audio from, any computer that supports USB Audio Class 1 or Class 2. Most operating systems, including Windows, Mac OS, and UNIX, provide generic USB Class 1 drivers. A Class 2 driver for Windows is provided by Symetrix.
The USB Audio Card provides two modes of operation: Speakerphone and Line In/Out. Each mode offers two configuration settings. Speakerphone mode provides plug-and-play connectivity, and enables one input channel and one output channel. Soft-codec acoustic echo cancelling (Skype, WebEx, GoToMeeting) can be disabled in favour of Symetrix' wide-band, low-latency AEC processing. Line In/Out mode is configurable for 2×2 or 8×8 recording and playback, using courtroom recording or audio production software. The USB Audio Card adds eight USB audio inputs and 8 outputs to a Radius AEC or Radius 12x8 EX, and up to 32x32 input and outputs for Edge DSPs. A high-retention Type B USB port provides a standard and robust connection between DSP and computer.
More: www.symetrix.co