Studio Technologies has released its STcontroller software application, promising 'a quick and easy means of confirming and revising microphone input parameters associated with several Studio Technologies Dante-compatible products'.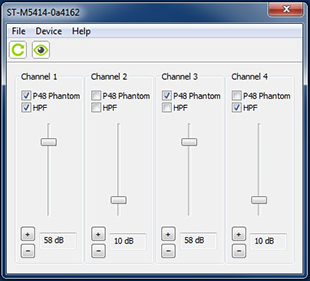 STcontroller is compatible with PCs running several versions of the Windows operating system. Upon executing, STcontroller identifies compatible devices on the Dante network. Dante device names are displayed and units can be selected and controlled.
The initial release of STcontroller supports the Model 214, 215, and 216 Announcers' Consoles, the Model 5205 Mic/Line to Dante Interface, and the Model 5414 Mic/Line Input & Line Output Interface. Using STcontroller, the key microphone input parameters can be viewed and adjusted, specifically the gain of the mic preamp and phantom power. In addition, STcontroller allows the Model 5414's high-pass filter to be switched in or out.
STcontroller is compatible with both current and previously delivered units above. Applicable units that are already in the field can be made compatible via a simple, free-of-charge firmware update. Future releases of STcontroller will support forthcoming Dante-compliant products. An expanded set of features will be offered to support the capabilities of the new products.
'We enjoy the challenge of creating products that solve real problems and increase the efficiency of our customers' workflow,' says Studio Technologies President, Gordon Kapes. 'Dante products from Studio Technologies are commonly used in on-air sports and entertainment applications. Audio technicians and engineers are typically located some distance away from the physical units. For example, in a production truck or trailer that is linked via fibre-optic cable with a stadium or arena booth or commentator location. With STcontroller, the key audio parameters can be adjusted, as required, wherever the Dante network is deployed. This will both save time and ensure that optimal audio performance can be easily obtained.'
More: www.studio-tech.com