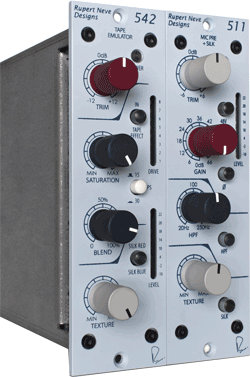 Incorporating preamp circuitry from the Rupert Neve Designs 517, sweepable high-pass filtering from the 5012 and the power of a variable Silk circuit derived from the company's flagship Portico II Channel, the 511 is a 'Rupert Neve-designed workhorse for any user's most important tracks'.
For company founder and lead designer Rupert Neve, the design process was more intensive than copying existing designs: 'Although creating a functional 500 Series mic pre is relatively simple, designing those modules to equal their non-500 Series counterparts with the current, voltage and space restraints is quite challenging,' he says. 'In creating the 511, we experimented with a number of different transformer and circuit topologies to achieve the same presence and sweetness found in the Portico Series of modules. The result of these efforts is that outside of the slightly lowered headroom, the 511's performance is nearly indistinguishable from standard Portico Series modules.'
The 511 can be used for both mic and line level sources, and with any ribbon, dynamic, condenser or tube microphone. A polarity reverse switch is available to address phase issues when using multiple microphones. The 12dB/octave high-pass filter can be used to remove rumble with minimal artifacts, and also to control proximity effect in close-miked vocals or other sources. To coax more harmonic content from the output transformer, the Silk Red mode can be engaged to add more thickness and sparkle in the high end as the Texture level is increased. While a little Silk Red can be used on nearly any source, but is especially suited to dynamic and ribbon microphones that are inherently lacking in high-frequency content.
With the addition of the 511 and 542 to the Portico 500 Series, which also includes the existing 517 Mic Pre/Compressor/DI and the 543 Mono Compressor, the 500 Series now has four versatile tone controllers and mic preamps. The list price of the Rupert Neve Designs 511 is US$650.
More: www.rupertneve.com
See also:
Rupert Neve Designs 542