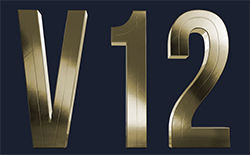 Waves Audio has announced V12 (Version 12) of Waves plug-ins, adding features including the ability to resize plug-ins, a new accelerated preset search engine, retina-ready graphics, and further plug-ins added to select premium bundles.
Waves V12 plug-ins allows resizing of plug-ins, with five GUI size options – up to 200% of the original plug-in size. Users can also customise different default sizes per plug-in, to have them open in any preferred size.
With V12 allows auditioning of presets instantly using the new lightning-fast preset browser. There is no need to browse manually through preset menus and sub menus as they can be searched by text, filtered by name, and quickly auditioned on the fly while playing a track. V12 also adds retina-ready graphics to all Waves plug-ins, which reduces CPU load by processing plug-in graphics on a GPU (graphics card).
Owners of Waves' premium Platinum, Horizon and Diamond bundles who update their bundles to V12 get three plug-ins added to their bundle without extra charge – LoAir, Submarine, and the Smack Attack transient shaper.
Updating plug-ins to V12 helps future-proof sessions and ensure Waves plug-ins remain fully compatible with the latest operating system and DAW versions. To update to V12, Waves plug-ins need to be covered by the Waves Update Plan.
New features/additions:
Resizable plug-in windows.
Lightning fast preset search.
Retina-ready sharper graphics: support for retina displays and reduction of CPU load.
Future-proofed compatibility.
More: www.waves.com