Inspired by the classic Tri-choruses and stompbox choruses of the 1970s and early 1980s, Eventide's TriceraChorus pairs rich BBD-style Tri-chorusing with another classic 1980s effect: micro-pitch detuning – used to thicken the sound, add static chorusing and spread the stereo field by detuning the left and right signals in opposite directions.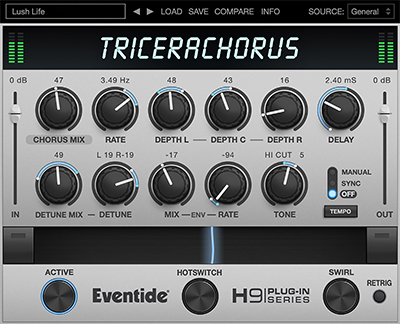 The combination of these effects makes it easy to create syrupy, smooth, and deep modulations on synths, strings, vocals, guitar and bass. TriceraChorus was designed to inspire experimentation with a UI optimised for live performance on desktop, laptop or iPad.
TriceraChorus has three chorus voices: Left, Centre and Right. A three-phase LFO modulates the delay times for these voices, producing an interesting and pleasing movement across the stereo field. The combination of the three modulated delays creates rich chorus sounds that are reminiscent of gear from the 70s and 80s.
The Hotswitch can be used to jump from one setting to another, and Ribbon and Hotswitch settings are saved per-preset. In addition to its automation tools, TriceraChorus features Env Rate and Env Mix controls that use signal dynamics to adjust the rate and mix.
Key features:
Bucket Brigade Delay-style stereo Tri-chorus.
Chorus Mode emulates the chorusing created by classic stompboxes.
Chorale Mode produces lush choruses of by classic rackmount units.
Chorus Mix adds gentle chorusing up to vibrato.
Depth LCR controls the amount of modulation applied to each of voice.
Individual voices can muted allowing you to use any combination of voices.
Detune the left and right channels simultaneously ±40 cents.
Delay sets the amount of delay for the chorusing effect.
Swirl adds stereo frequency shifting.
Tone shapes high and low end of signal.
Available for Mac and PC as VST, AAX and AU plug-in
iOS version works as an AUv3 plug-in and standalone app.
More: www.eventideaudio.com