Brainworx Audio has announced the bx_console SSL 9000 J plug-in – bringing Solid State Logic's legendary large-format 9000 J Series analogue console into the hands of DAW users.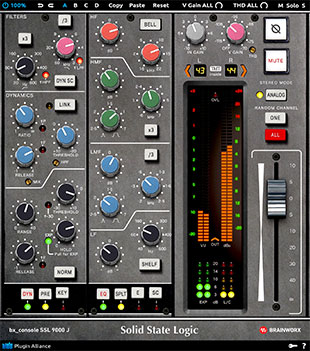 The original SSL 9000 J improved upon its predecessors by offering extended bottom end, a more clean and open top end, and additional distortion-free headroom – quickly making it a favourite among the top producers and engineers who crafted some of the biggest pop, hip-hop, R&B, and orchestral recordings of the 1990s, 2000s and beyond.
Using 72 different TMT (Tolerance Modeling Technology) emulations, Brainworx's bx_console SSL 9000 J allows a 72-channel analogue SSL console to be configured in-the-box.
The plug-in was developed in collaboration with SSL engineers from original Solid State Logic 9000 J schematics, and built using component modelling. Additional refinement of the emulation came courtesy of award-winning mix engineer Michael Brauer, who helped Brainworx by matching the plug-in's sound and behaviour to the SSL 9000 J he used throughout his career.
Brauer and other top-tier mix engineers have helped create a menu of presets for users of the bx_console SSL 9000 J plug-in. Additionally, Brainworx has added powerful plug-in-only features, such as continuously variable THD (Total Harmonic Distortion) and V Gain (Virtual gGain) controls to add saturation and/or simulated analogue artefacts independently or globally – changeable across all plug-in instances. In addition to the original EQ, dynamics, and filter sections, it also features switchable EQ modes between E- and G-style filters.
Notable 9000 Series-only dynamics features such as 'peak detect' and expander/gate 'hold' are accessible via a scalable user interface to adapt to various screen sizes and workflows.
'The bx_console SSL 9000 J was the missing link going hybrid and in-the-box,' says Brauer, who is currently moving to hybrid working at his new BrauerSound mixing studio.
More: www.plug-in-alliance.com