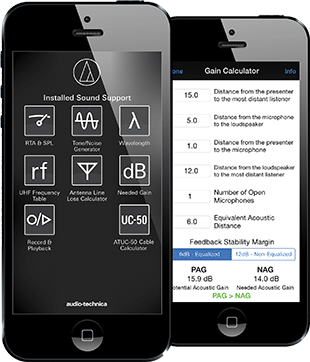 Audio-Technica has announced an update to its Installed Sound Support iPhone app.
Audio-Technica Installed Sound Support App offered RTA and SPL metering, recording and playback of short audio test clips, and a gain calculator. The app was developed and updated by Studio Six Digital.
The update includes requested modules and updated graphics, including: UHF frequency tables for Audio-Technica wireless microphone systems, helpful to avoid inter-modulation when planning and using multiple A-T wireless channels around broadcast TV channels (US only); a cable calculator for the Audio-Technica ATUC-50 digital discussion system; antenna line loss calculator for some of the popular RF cables on the market today; improved RTA and SPL module with a peak-hold function; and tone/noise generator
The new version of the app retains the following features from the previous iteration: wavelength function, which calculates the audio wavelength in feet and/or meters based on the frequency; RTA and SPL real time analyser; record and playback for up to five test recordings; needed gain function, which uses a gain calculator to determine potential acoustic gain (PAG) and needed acoustic gain (NAG); information links to A-T website and AudioTools in app store.
'The Installed Sound Support app has proven to be a very useful tool in the field for our integrators,' says Audio-Technica Applications Engineering Manager, Mark Donovan. 'This update to the app has expanded its usefulness and incorporates features to support our newest products.'
More: www.audio-technica.com