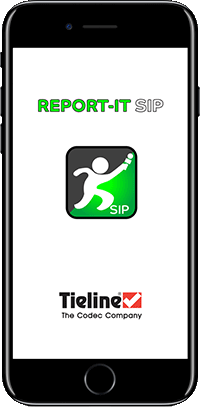 Audio codec manufacturer Tieline Technology has released a new version of its smartphone reporting app, Report-IT SIP, which streams live, studio quality audio to all N/ACIP 3326 compliant codecs in SIP mode.
'Report-IT SIP integrates the technology in Tieline's Report-IT Live app and expands the streaming options available for mobile journalism applications,' says Tieline Group of Companies CEO, Will McLean. 'With Report-IT SIP you can connect to a non-Tieline audio codec at the studio and stream using the award winning features and functionality of Tieline's other apps.'
Report-IT SIP can connect to all Tieline and non-Tieline SIP codecs. In SIP mode the app can stream low latency live audio using widely available algorithms including Opus Mono, Opus Voice, G.711 and G.722.
Key features:
· Simultaneously record up to 20kHz audio quality and stream up to 15kHz quality live audio.
· Prerecord and trim interviews, build playlists and insert recordings as wraparounds in live broadcasts.
· File reports via FTP automatically using WAV or AAC-LC file formats.
· Report-IT SIP supports the use of SIP accounts, proxies, IPv6, multiple STUN servers, ICE and TURN.
The Report-IT SIP app can be purchased and downloaded from the iTunes App Store.
More: www.tieline.com