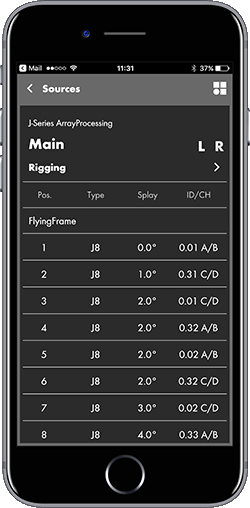 The latest version of the d&b audiotechnik's R1 Remote control software brings Array Verification to help avoid cabling mistakes in both mobile and permanent applications.
The procedure automatically identifies the physical position of a loudspeaker in an array, allowing it to be compared to the set-up in the d&b ArrayCalc simulation software. The feature not only confirms that loudspeakers are cabled and working correctly, but that each amplifier channel goes into the correct loudspeaker in the array. For users, it means cabling issues can be easily identified for both line and subwoofer arrays – saving time spent otherwise searching for errors.
Array verification will be accessible from the System Check view in R1, which will be renamed System Check and Array Verification.
For users on the move, the ArrayCalc Viewer app has been designed specifically for viewing ArrayCalc project information on tablets and smartphones, providing all key data for positioning and flying a d&b loudspeaker system. Once the system has been designed, calculated and optimised in ArrayCalc, the dbac2 file can be shared via email, AirDrop, or downloaded onto any iOS or Android device. For users, the new app means any changes can be shared instantly, with no more need for paper print-outs.
'At d&b, it's not only about designing and manufacturing the best possible products, it's also about the workflow that supports them,' says d&b Product Manager, Vicent Perales. 'We're constantly looking for ways to optimise the d&b workflow, listening to our users and trying to improve every small bit. The idea behind Array verification is a perfect example; one of the most frequent errors in modern PA systems is due to mistakes when cabling the system. So we focus on problem prevention, because this workflow is what truly takes a system from great to outstanding.
More: www.dbaudio.com