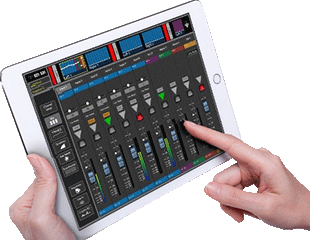 DiGiCo's new S App allows control of DiGiCo S-Series mixing consoles from Apple iPad.
Compatible with the S21 and S31 mixing desks, S App allows remote, wireless control of any DiGiCo S-Series mixing console from remote locations within a venue. It permanently displays an overview of the console layout, enabling any available console bank to be selected using same operation as the console itself.
Control of:
· Bus Routing: assignment of channels to buses.
· Snapshots: insert new, recall, update, delete.
· Matrix: sends, on/off, matrix input labels.
· Auxes: auxiliary send levels, on/off, auxiliary pans.
· Channel: +48V, polarity, analogue gain, digital trim, channel delay, insert points on/off, meters.
· EQ: 4-band EQ plus HPF/LPF.
· Mix: channel label, pan, mute, solo, fader level, meters
· Dynamics: all dynamics parameters for all console dynamics modes.
· Graphic EQ: 32 faders and on/off for each unit, flatten all bands.
· Save Session.
There is also an overview mode for selecting the Bank required for control. Connection details can be saved for different devices and aux select buttons can (optionally) activate the Solo function for the relevant aux channels.
The DiGiCo S App requires v1.4+ of S-Series console software, and the iPad connection must be configured on the console. It is not compatible with earlier versions of S-Series software.
More: www.digico.org