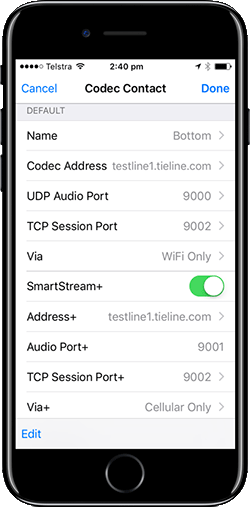 Tieline Technology has announced SmartStream Plus offering dual redundant streaming, adjustable automatic jitter buffering and forward error correction (FEC) for the Report-IT Enterprise smartphone app.
'This innovative suite of new features makes Report-IT the most powerful smartphone codec app available,' says Tieline VP Sales APAC & EMEA, Charlie Gawley. 'Most significantly, the integration of SmartStream Plus delivers true network diversity for smartphone reporting. It allows users to stream using the phone's cellular LTE connection and simultaneously stream over commonly available Wi-Fi access points, or over an affordable MiFi (mobile Wi-Fi) device. If one connection is lost, the other will continue to stream reliable IP audio to the studio to ensure continuity of remote audio.'
SmartStream Plus enhances the reliability of smartphone broadcasting and can be employed when connecting to Tieline's Merlin and Genie families of IP codecs. A new firmware release shortly after the NAB Show will also support SmartStream Plus in Bridge-IT and Bridge-IT Xtra codecs.
'For more than a decade, Tieline has specialised in broadcasting reliable audio over imperfect networks like the public internet using a range of wired and wireless IP technologies,' says Tieline CEO, Will McLean. 'This experience has allowed us to develop and integrate market-leading SmartStream Plus technology in new generation IP codecs. After the successful launch of this feature in Report-IT Live, we are now proud to offer this technology in our Report-IT Enterprise app, which will significantly improve the reliability of wireless remote broadcasting for thousands of customers.'
The new app update includes additional configuration options for Tieline's automatic jitter buffer management. Auto jitter buffering takes the guesswork out of connecting, by responding dynamically to variable network conditions over unmanaged IP networks like the public internet to ensure reliable streaming. Five auto jitter presets are now available and you can configure the maximum jitter depth.
FEC is another advanced streaming feature added to Report-IT Enterprise. FEC transmits a secondary stream of audio packets over a single connection. If the primary audio stream packets are lost or corrupted, then packets from the secondary stream can be substituted to replace them.
SmartStream Plus dual redundant streaming is available as a free upgrade in Report-IT Enterprise v3.4.2 available from the iTunes App Store, or v2.4.2 of the app available on Google Play. It is already available to customers who have purchased the Report-IT Live Professional app. Users can use the PC/Mac TieServer Console, or download the latest iOS or Android TieServer Console Apps to configure these new settings.
More: www.tieline.com