PreSonus QMix-UC is a free monitor-mix control app for PreSonus StudioLive mixers enabling up to 14 musicians to simultaneously control monitor (aux) mixes wirelessly from mobile devices.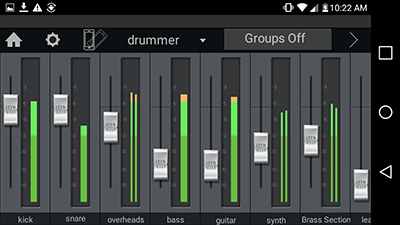 Upgraded to support StudioLive Series III mixers, QMix-UC can be used with Studio 192-series interfaces from Android devices, iPhone and iPod touch. For StudioLive AI-series mixers, QMix-UC replaces QMix-AI automatically when the app is updated.
Building on the features and easy-to-use functionality of its predecessors, QMix-UC adds the ability to create four channel groups, making it easier for advanced users to control large mixes. For a more streamlined workflow, QMix-UC retains the Wheel of Me, which selection of multiple Me channels and turns them all up at the same time, while controlling the relative balance between the musician and the rest of the band. Aux mix send levels and pan positions (for linked auxes) and groups are available in Landscape view.
StudioLive mixers has permissions that determine which features can be controlled from each wireless device on the network, including those running QMix-UC. Any wireless device can be blocked from accessing the network entirely, even with the router password.
PreSonus QMix-UC is available free from the Apple App Store, Amazon App Store, or Google Play Store.
More: www.presonus.com