Shure has updated the ShurePlus Channels App, increasing users' ability to monitor, organise, and access key channel parameters with more convenience and power.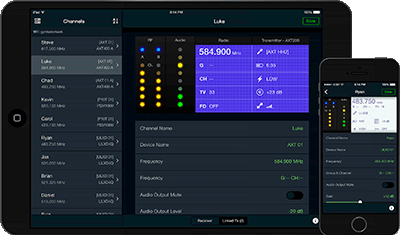 ShurePlus Channels 1.3 provides real-time, precision monitoring of select Shure wireless systems from an iOS device. Supported on Apple mobile devices running iOS 8 and later, it is compatible with the Axient Wireless Management Network, UHF-R Wireless System, ULX-D Digital Wireless System, QLX-D Digital Wireless System, and PSM1000 Personal Monitor System.
This update introduces features to enhance the user interface and channel monitoring experience. The redesigned Dashboard view displays RF/Audio meters and active transmitter information for multiple channels in a single view. Additionally, Shure has incorporated Access Control, a feature enabling audio engineers to protect supported devices with PINs, more closely controlling who is able to change device configurations and properties. Access Control protects device parameters from being changed by unauthorised users and prompts them to authenticate when accessing protected devices. Version 1.3 also includes the ability to categorize channels into color-coded groups, which can then be sorted and organized according to user preferences.
'ShurePlus Channels puts power in the users' hands, allowing them to confidently organize and view key elements of their wireless gear,' says Product Manager, Sam Drazin. "This latest App update creates a more comprehensive and secure working environment. Between the enhanced Dashboard view and Access Control feature, users can more closely monitor and control key channel parameters for a streamlined experience."
When connected to a Wi-Fi network, ShurePlus Channels will automatically discover compatible Shure hardware, offering remote visibility to critical channel information, such as RF signal strength, interference alerts, audio levels, transmitter battery life and alerts, among other key attributes. ShurePlus Channels provides audio engineers and wireless technicians with a tool to make wireless system configuration and monitoring easier and more effective.
For a one-time (€9.99) fee per wireless product line, receiver and transmitter settings, such as frequency assignment, audio input/output levels, channel and device naming, and menu locking, can be adjusted from iPad, iPhone, or iPod. Version 1.3 of ShurePlus Channels is available for download in the Apple App Store.
More: www.shure.com