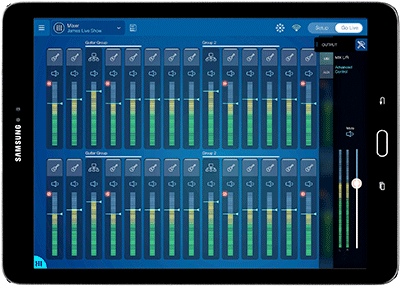 Harman Professional Solutions has announced the Harman Connected PA, an integrated ecosystem of live sound products aimed at musicians and performers at any skill level.
The Harman Connected PA ecosystem brings together Soundcraft mixing consoles, AKG microphones, dbx stageboxes and JBL speakers that integrate Harman ioSYS technology to offer a flexible and scalable solution. At the centre of the Connected PA ecosystem is the Harman Connected PA mobile app, which provides central set-up, configuration and control.
'Musicians need a fast and easy way to set up their PA system so they can focus on performing instead of worrying about their equipment,' says Harman Professional Solutions Senior Global Manager, Noel Larson. 'The Harman Connected PA system provides a simple and effective way to set up and operate their entire PA system from one central app, with minimal pro audio skills or previous live sound experience. Now musicians can focus on what matters most – their performance.'
The Harman Connected PA streamlines the set-up process with one central app for the entire component ecosystem, removing the need for multiple apps and GUIs. The app automatically identifies and configures connected equipment, provides set-up wizards for quick and easy system configuration, and offers access from a variety of devices, including iOS, Android, Mac OS and Windows.
The Connected PA product ecosystem is enabled via ioSYS technology and initially includes equipment from Soundcraft, JBL, dbx and AKG, allowing musicians to create systems that suit their specific needs. Additional Harman equipment can be added to increase performance flexibility and meet the demands of future growth. At launch, compatible products include: Soundcraft Ui12, Ui16, and Ui24R Digital Mixers; JBL PRX800W Series Loudspeakers; dbx DI1 Active Direct Box; and AKG P5i Microphone. Harman Professional Solutions expects to extend the Connected PA ecosystem, to provide further versatility and adaptablility.
See also:
More: http://connected-pa.com