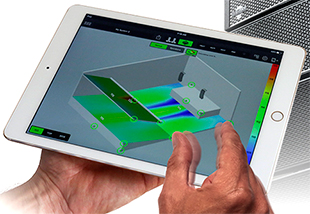 Eastern Acoustic Works has announced EAWmosaic app, providing Raduis system users with control over the entire Raduis family of products via an iPad.
The app enables users to predict, control and monitor the entire system from an iPad from anywhere in a venue. A single cable can be used to control the Raduis system via EAWmosaic, and also to provide multichannel audio from any Dante-enabled source – such as an FOH console like the Mackie DL32R.
Use of the app also eliminates the need for racks of external processors, laptops, additional screens, mice and keyboards at FOH – FOH is now located wherever the engineer is. End-users can create system design proposals, complete with acoustical predictions, in minutes while standing in the design space.
'After extended beta testing with key partners, we are excited to launch EAWmosaic,' says EAW Director of Marketing & Applications Engineering, Adam Shulman. 'The app is truly the cornerstone of the Raduis family. Combined with Raduis' core features, such as Optilogic and Dante audio, the system will fundamentally change how users interact with their sound systems.'
EAWmosaic is available for free download from the App Store (search for 'eawmosaic').
More: www.eaw.com