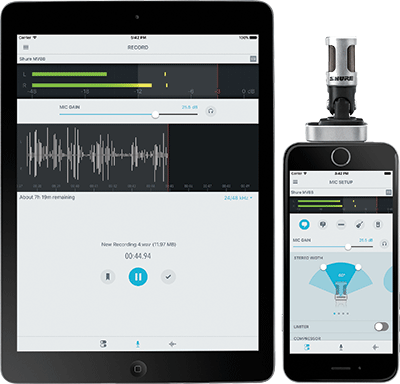 Shure has updated its ShurePlus Motiv Mobile Recording iOS app for Motiv Digital Condenser Microphones.
Version 2.0 offers a suite of advanced features, including an editing tool, improved user interface, and fluid sound metering for a more accurate, jitter-free experience. Additionally, v2.0 offers access to a playback window, enabling review, assessment and listening to recording.
'We're always listening to our users, and these latest updates are a direct result of their feedback, requests, and needs,' says Shure Senior Product Management Specialist, Thomas Banks. 'We understand that the ability to edit and play back a recording is paramount to achieving an optimal, high-quality audio file. With the upgraded navigation pane, users can now navigate through the App with ease. The extended capabilities of v2.0 – notably the ability to trim, spilt, and fade recordings – brings more value to the overall Motiv experience, and encourages our team to continually seek out ways to improve its functionality.'
To enhance the app's current capabilities, v2.0 touts an easy-to-use editing tool, bringing the ability to trim and split tracks, incorporate user-defined fades, and place markers on the timeline of a recording to create points in time to return to, playback from, or to define split points. There is also a 'flattened' interface, with fewer menu selections and pull-down options to make use quicker and more and efficient. Additionally, improved metering delivers a more fluid transient response for optimised and seamless viewing. The clip indicator now turns the entire metering bar red when clipping, making it easier to identify and respond to the action.
The app's playback window enables critical review of a recording and casual listening. Playback controls include play, pause, fast-forward and rewind. Users also have access to a looping feature for continued review of a track and the option to add artwork or imagery to the recording through the iOS Camera Roll.
The original ShurePlus Motiv Mobile Recording App was designed for use with all Motiv products. This free app supports high-quality digital recording and sharing through text, email, iTunes, AirDrop and Dropbox. The App offers 24-bit/48 .wav recording for all Motiv microphones and enables users to make real-time adjustments to selectable DSP preset modes for gain, equalization, and compression. It is also a convenient and reliable tool on its own for enhanced recording and now, editing.
Version 2.0 of ShurePlus Motiv is available for download in the Apple App Store.
More: www.shure.com