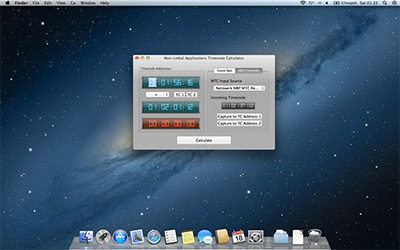 Non-Lethal Applications Timecode Calculator for Mac is available now free and can be downloaded from the iTunes App Store.
NLA Timecode Calculator is a utility application that addresses time code value cvalculations for postproduction situations. It is sspecially effective with dropframe time code, as this can be error-prone.
Key features:
· Add and subtract TC addresses.
· 23.98/24fps, 25fps, 29.97/30 non-dropframe, 29.97/30 dropframe.
· Auto-fixing erroneous user input.
· TC smaller than 00:00:00:00 can be displayed as negative value or positive, wrapped around the 24-hour mark.
New in v1.1:
· Improved user interface.
· Time code can be calculated from an external Midi time-code source.