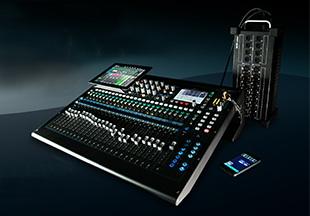 Allen & Heath has announced firmware v1.9 for its Qu Series of compact digital mixers, bringing major enhancements to its feature set and ecosystem. Accompanying the release is a number of key updates to the Qu-Pad app, factory mic presets from Shure and Sennheiser, streamlined DAW Control for Windows, plus the new, customisable Qu-Control app for install applications.
A&H claims Qu-Pad v1.9 to be the most comprehensive iPad app of its type, fully implementing every setting, parameter and control of Qu mixers. Alongside control of live mixing functions, processing, routing and effects, Qu-Pad now offers complete access to scene management, control of the 15 mixer SoftKeys across the whole Qu range, AMM, I/O patching, and Qu-Drive stereo and multitrack recording/playback facilities. Also new to the app is user permissions with password protected user profiles.
Allen & Heath has teamed up with leading microphone manufacturers Shure and Sennheiser to provide channel library presets for a number of popular and industry standard mics. The presets offer a starting point to get the best possible sound out of a microphone/mixer combination.
A new addition to the Qu Series control portfolio is Qu-Control, a customisable iOS app for iPod Touch, iPhone and iPad. Offering five screens with up to 15 control 'widgets' each, the app enables control of parameters such as background music source selection, master zone level, scene recall or microphone paging. Password protection prevents access to unwanted controls, which makes it the ideal solution for wireless control of venues, conference rooms, hotel lobbies and any other installed sound environment.
Following customer feedback, the DAW Control driver, previously available for Mac only, will soon be released for Windows OS. The driver allows very simple integration of a Qu mixer into a studio environment, emulating popular HUI and Mackie Control protocols to take control of a number of DAWs including Cubase, Sonar and Pro Tools.
Qu firmware v1.9 also adds support for the recently announced Qu-SB ultra-compact intelligent mixer/interface, designed as a smart stage box solution for bands, music venues, project studios, schools and corporate events requiring a pro live and/or recording mixer in a tiny footprint.
'Qu V1.9 diversifies the range's array of control options, and with the upgraded Qu-Pad app, opens up fully-functional tablet mixing,' says A&H Product Manager, Nicola Beretta. 'Allen & Heath has done what it is renowned for doing – responding to customer requests, providing the best service to existing users, and keeping Qu at the forefront of the digital compact mixer arena.'
More: www.allen-heath.com