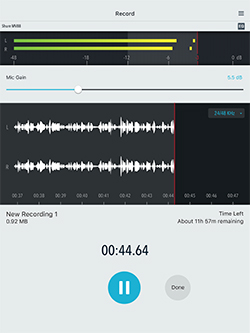 Shure has updated its ShurePlus Motiv Mobile Recording iOS App, adding features, including five-band EQ and gain adjustment controls for the MV51 Digital Large-Diaphragm Condenser Microphone, MV5 Digital Condenser Microphone and MVi Digital Audio Interface.
Designed for use with Shure Motiv Digital Condenser Microphones, v1.1 includes AirPlay compatibility and Bluetooth support for instant playback over a loudspeaker system. Additionally, transport controls in the control centre simplify the process of pausing, playing, fast-forwarding and rewinding a recording. For low-light environments where a bright screen might become a distraction (such as a club or other live event venue), Shure has added a dark mode setting.
'The latest updates to the ShurePlus Motiv app ensure that we are offering a package that's simple and intuitive to use, while also delivering high-quality recording capabilities,' says Shure Category Director for Software, Chad Reid. 'We understand that customisation is key to achieving high-quality sound, and with features that provide an upgraded degree of control over Shure Motiv microphones, it's even easier to optimise settings based on the sound source and environment. This version allows for seamless integration with some of the features customers are already used to, such as wireless playback, AirPlay compatibility, and transport controls that are easy to access from any screen.'
Available for download in the Apple App Store, the free app allows real-time function adjustments and file sharing through text, email, iTunes, AirDrop and Dropbox. It may also be used as a convenient and reliable tool on its own for enhanced recording.
More: www.shure.com