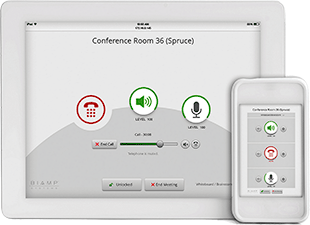 Mobile control software for Biamp Tesira-equipped conference rooms comes in the shape of the Oreno app, which can run on nearly any mobile device, and requires minimal UI design work and no client software to be installed.
Oreno has three core components – Oreno Creator, Oreno Manager and the Oreno User Interface. Oreno Creator is a core productivity tool for A/V integrators. Its allows creation and commissioning of Tesira control interfaces with ease, with minimal programming required. Oreno Creator can reduce time spent on programming, allowing faster workingusing pre-built templates, and quickly and easy deployment.
After installing Oreno Manager on a PC at the customer site, control can be passed to the end-user. Oreno Manager contains two components – an application that communicates with the Tesira System and delivers the user interface, and the Oreno Management Console that is accessed via a web browser.
Designed to provide an intuitive user experience, the Oreno User Interface is the result of a collaboration between Biamp and a world-class UX consulting firm. The resultant User Interface is operated from a simple URL that can be entered into a browser on nearly any mobile device. Oreno User Interface features include control settings, convenient login, default settings, and interruption protection, all in a web-based format.
Key features:
· Connect to available Tesira Systems.
· Create administrator and user accounts.
· Assign user access/rights to conference rooms.
· Manage system users and log them out of a room if necessary.
· Administrative tools, including event logging, control system on/off, and room management and room usage data.
Oreno will be available in the Q3 2015.
More: www.biamp.com