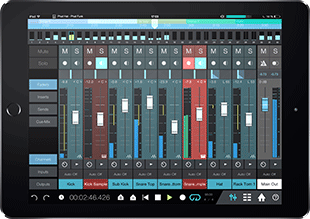 PreSonus Studio One Remote is a free iPad remote control app for Studio One 3 Professional music production software. Offering a 'second screen' control surface for a workstation or a mobile remote for recording and mixing away from the computer, it provides control of Studio One 3's transport and mix console, track Macro Controls, custom commands, and stock and third-party VST and AU plug-ins.
Key features:
· Control any copy of Studio One running on the same network. Collaborate or create extended workspaces through control of one instance of Studio One from multiple instances of Studio One Remote on independent iPads.
· Mix page provides access to the Mix Console, including inserts, sends, inputs, outputs, and cue mixes.
· Mix page provides seamless navigation through the transport bar and timeline ruler with markers, and arranger sections. The built-in meter bridge also works as a song overview.
· Control effects chain on any channel through access to user-definable Macro Controls with eight assignable knobs, eight buttons, and two powerful XY vector pads.
· Adjust and automate individual plug-ins with eight sliders, eight knobs, and two XY vector pads. Stock Native Effects come pre-programmed and third-party plug-in parameters are assignable via Control Link.
· Adjust multiple cue mixes with independent faders and access markers.
· Build or modify song structures through control of Arranger sections.
· Set record modes, pre-count, and metronome settings while tracking.
· Access Studio One's user-definable key commands and via the Commands page.
· Studio One Remote is based on PreSonus' UCNet protocol for fast, reliable network connectivity and remote control. UCNet also powers such PreSonus applications as UC Surface and Capture.
Released concurrently with Studio One Remote, Studio One 3.0.1 is now available and adds: Italian localisation; updated reference manual; a new sound set; improved multi-touch performance including support for third-party plug-ins; improved automation curve handling; and support for the newPreSonus StudioLive CS18AI moving fader controller.
Studio One Remote requires Studio One Professional 3.0.1 or later and is compatible with iPad 2, iPad mini, and newer models running iOS 8 or later. Studio One Remote is now available as a free download from the Apple App store.