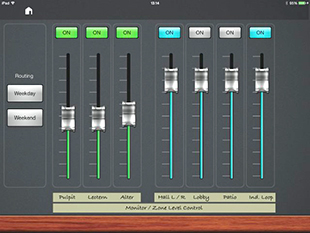 Yamaha's ProVisionaire Touch app for iPad allows wireless remote control of MTX and MRX series signal processors via easily designed custom control panels.
A key component of Yamaha's Commercial Installation Solutions (CIS) series, the MTX and MRX processors can be managed via Wi-Fi. ProVisionaire Touch makes it easy to arrange faders, switches, graphics and other widgets to create original touch control panels that match individual installation and control requirements. Importantly, little programming knowledge or experience is necessary, making it the ideal solution for any installer.
Multiple pages can be created, providing optimised control panels with individual presets and parameter settings for different zones and/or users. Three pass-code levels can be used to limit user access to specific control panels, enhancing security and the overall operating convenience. Completed control panels can be exported as data files and used as templates for multiple iPads at the same installation, or when setting up a new installation at a different location, a feature which can make a notable difference to setup speed and efficiency.
The versatility of iPad control means that the device can be placed in a third-party mount, fitted to any surface and used as a wall or table-top controller. Alternatively it can be handheld for maximum remote control freedom and convenience when setting up or controlling a system.
'At Yamaha we are always ready to respond to feedback and requests from our customers, so that users benefit from sound systems that truly satisfy their needs,' says Yamaha PA Department Manager, Ken Hiraoka. 'Used in combination with MTX and MRX series signal processors, we are sure that the ProVisionaire Touch app will make a significant contribution to smoother, more efficient system design and set-up, as well as improved operating ease and comfort.
ProVisionaire Touch is scheduled for release in Q2 2015.