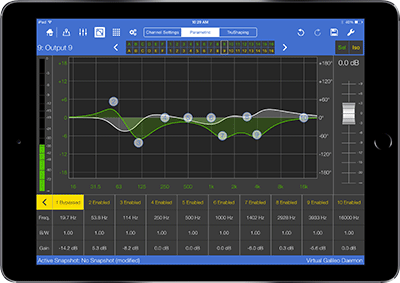 The Compass Go By Meyer Sound app turns an iPad into a portable control device for optimising Meyer Sound systems.
The app provides a tablet extension to Compass control software, the primary control interface for the Galileo and Galileo Callisto loudspeaker management systems. It enables end-users to adjust system delay, gain, and mute as well as the extensive U-Shaping, TruShaping and parametric EQ filter sets, while moving about a venue. This mobility can speed up set-up and tuning before a show, as operators listen for the coverage and quality of their main arrays and fill systems from different seats.
'Any new tool that makes it easier to deliver an exceptional listening experience is good news to our customer base,' says Luke Jenks, Director of Product Management. 'Compass Go brings the familiar tools from the desktop Compass version, while adding an intuitive user experience and convenience that will surely be appreciated.'
Compass Go users can connect an iPad to a Galileo or Galileo Callisto processor on the same Wi-Fi network, and it will display current parameter status and provide access to adjustments made at any control point of a device. End-users can recall snapshots of prior user settings for modification and create, edit and store snapshot settings in the individual processors. To ensure mission-critical control continuity during a show, an active wired connection to the Compass desktop workstation is recommended.
Compass Go By Meyer Sound is available for iOS 8 users, and can be downloaded free from the Apple App Store.
More: www.meyersound.com