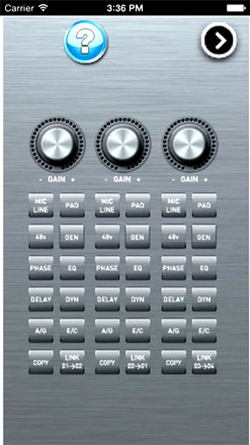 Peavey Electronics has released the MediaMatrix Kiosk2Go mobile app.
A free companion app for the MediaMatrix Kiosk2Go programming interface, the app scans a network for MediaMatrix nodes running Kiosk2Go, and presents a list of all the devices. Users can tap a device to open Kiosk2Go full screen in Safari or Chrome browsers.
MediaMatrix Kiosk2Go is a drag-and-drop programming interface application for creating custom control and monitoring interfaces for digital audio systems via mobile devices. It allows programmers to use supplied graphics elements or import their own graphics files and photos to create custom user interfaces, and map functions to those controls in the MediaMatrix NWare software.
The custom interfaces are then served out to mobile devices via their integrated web browsers and HTML 5.0. The powerful and popular Nion and nControl family of digital audio distribution, processing and control products now provide custom control and monitoring via NWare and any iOS, Android, Blackberry, Linux or Windows mobile or smart device. Kiosk2Go is now included in the MediaMatrix NWare software application.