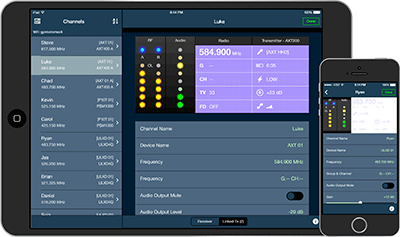 Shure has released ShurePlus Channels, an iOS mobile application that provides real-time remote monitoring and control of several Shure wireless systems – such as Axient, ULX-D Digital Wireless, QLX-D Digital Wireless and the PSM1000 Personal Monitor System.
Supported on Apple mobile devices running iOS7, ShurePlus Channels relays channel information including RF signal strength, audio levels, and remaining battery life, and allows remote adjustment of frequency assignments, audio gain and muting.
The basic version to monitor the systems is free but trough additional in-app purchases remote control of a Shure wireless system is possible, as well as channel parameter adjustments. For a small one-time fee per wireless product line, crucial receiver and transmitter settings – such as frequency assignment, audio input/output levels, channel and device naming, and menu locking – can be adjusted from an iPad, iPhone, or iPod.
When connected to your dedicated Wi-Fi network, ShurePlus Channels automatically discovers compatible Shure hardware, offering remote visibility to critical channel information like RF signal strength, audio levels, transmitter battery life and other key attributes. When combined with ShowLink Remote Control for Axient, it allows simultaneous adjustment of transmitter and receiver settings, a powerful addition to the wireless solution's already advanced feature set.
'ShurePlus Channels was designed to meet the demands of today's audio professionals,' says Shure User Interface Design Manager, Chad Reid. 'The ability to freely roam a performance space, and confidently monitor and operate wireless gear provides invaluable flexibility. It works as a great complement to our Wireless Workbench 6 application, but also just as well as a stand-alone solution for users of less complex systems and products, like the new QLX-D Digital Wireless Microphone System.'
The ShurePlus Channels iOS app will be available for download from the iTunes App Store in 62 EMEA countries in Q3 2014.
More: www.shure.com