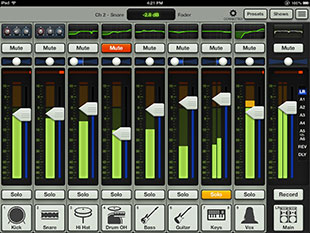 Mackie has released v2.0 of its Master Fader control app for DL Series of digital live sound mixers.
Master Fader v2.0 brings new features resulting from customer feedback, benefitting from the mixer's use of iPad/iPhone/iPod Touch software control. 'Master Fader v2.0 is all about increased control and workflow improvement,' says Mackie Product Manager, Ben Olswang.
The new features of Master Fader v2.0 cover small performance and workflow updates to items that will 'truly change how people use the app'. Among them, input channel and aux send linking add control of stereo inputs sources for keyboards and in-ear monitors. The addition of mute groups and view groups bring customisable control of the worksurface, while the Quick Access Panel addresses important controls without taking up screen real-estate.
Key update Features:
· Input channel linking
· Aux send channel linking
· Mute groups
· View groups
· Pre-DSP aux source
· Quick access panel
· Improved compressor/limiter graph UI
· Option for independent channel aux mute for each aux send
· Main mute
· iOS7 Support
Major workflow updates – including channel/aux linking and access to mute/view groups – also apply to a new version of Mackie's My Fader control app for iPhone and iPod touch. This extends monitor mix control to on-stage performers and adds greater control for front of house engineers while roaming the venue.
Master Fader v2.0 is available for free download from the App Store (existing users are able to update directly on iPad).