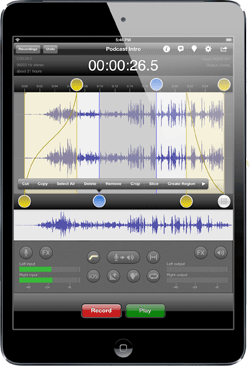 Røde Microphones has updated its Røde Rec field recording app for Apple iOS devices.
The free software release is the first since Røde acquired the FiRe app from Audiofile Engineering, and is claimed 'to provide not only the best field recording app for mobile devices, but a platform that rivals dedicated audio field recorders'.
The update's addition of a retina-compatible iPad interface enhances control on the larger device – users can now view the waveform, transport controls, nonlinear editing and other functions in one screen. The MP3 file format has also been added.
'While Røde Rec is designed for the capture and sharing of broadcast-grade audio there's no denying the popularity and indeed the convenience of the MP3 format.' explains Damien Wilson, Røde Global Marketing & Sales Director. 'Røde Rec is one of very few apps on iOS that supports MP3, and combined with one-touch sharing via dropbox and email it's a great option when you want to share an audio grab quickly with friends, colleagues or clients.'
This updated version also marks the app's debut in localised languages, with support for Spanish, French, German, Italian, Portuguese, Russian, Chinese (simplified), Japanese and Korean, in addition to English. The localised apps are available on the relevant international iTunes App stores.
An update to Røde Rec LE, the free, feature-limited version of Røde Rec will include a dedicated iPad interface and enhanced stability. It can be downloaded from the iTunes App Store or Røde website.