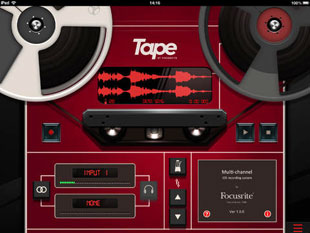 Focusrite's Tape for iPad offers two-track recording, instant mastering, customisable tape artwork and social media connectivity. Recordings can be made directly from the iPad's own microphone or using an external I/O. These can then be processed with one-button multi-band compression before publishing on SoundCloud along with a title and album artwork.
The app will record two separate inputs or allow them to be linked as a stereo pair, and can be supported by an external interface such as Focusrite's iTrack Solo or any Core Audio-compliant audio interface (including interfaces from Focusrite's Scarlett range). Low-latency monitoring allows performances to be monitored during recording.
To assist recording, Tape for iPad has an adjustable metronome (click track).
Tape for iPad is available for free download, via the App Store.