Roland Systems Group has released an iPad app for its M-300 digital mixing console, providing parameter control, as well as additional practical features such as the ability to store scenes and edit the Channel Strip (EQ), GEQ and Sends on Fader.
Connecting the Roland Wireless Connect USB adaptor to the M-300 USB port links the M-300 to a wireless network, allowing the iPad can connect to and control the desk from different locations within a venue. As well as ease of use and mobility, this dual screen set-up can also be used by a radio mic tech to check and monitor each microphone as they are handed out during a live performance.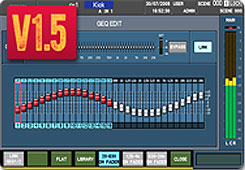 'The success of the iPad as a tool in live audio applications is clear,' says Simon Kenning, Sales Manager for RSG UK. 'This dedicated M-300 app builds on the success of the M-480 app released last year, and is an important addition to our range of remote control applications.'
Alongside the iPad app, Roland has also announced v1.5 Firmware for the M-300. This free update brings features such as a 31-band mono GEQ, new effects for the effects library, audio crossfade for scene changes and a detailed Recall Filter function. A Channel Display screen has been added for DCA groups, as well as the ability to disable more user settings and a default guest start-up mode feature.
Enhancements to the monitoring function include a dimmer function and a lock-out feature that disables the Level knobs to prevent any accidental monitor volume changes. The v1.5 upgrade also provides additional RS232C commands, improving the control parameters and ensuring that system installers, integrators and users have access to more remote control functionality from touch panels, video devices, and software.
Concurrent with this update is the announcement that all V-Mixers now include the ability to do multichannel recording by simply connecting a Cat5e/6 cable from any REAC port to a network port on a PC to enable 40 channels of WAV capture.
See also: