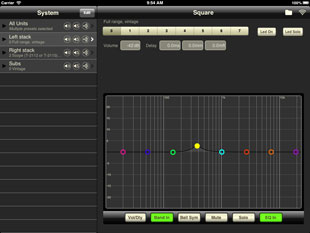 Duran Audio has released v2.0 of its iOS Control App.
Designed primarily for users of Duran Audio's Sound Reinforcement range of loudspeakers – Axys Flex, Scope, Source, Target and Beam Shaping Subwoofers – the app connects to the loudspeakers using a wi-fi to RS485 convertor, with the new version supporting multiple controllers.
In a live environment, the Control App offers engineers and sound designers simple and intuitive access to the features available through the loudspeakers' onboard DSP. This includes full access to eight-band parametric EQ, delay and volume settings, as well as switching between crossover settings and recall of onboard presets.
Version 2.0 features:
Create groups of units
XML based project file stores settings
Ability to reset volume, delay and EQ of all units
Although the Control App is aimed primarily at the entertainment industry it does support all AXYS by Duran Audio products, including the companies legendary Intellivox range.
More: www.duran-audio.com