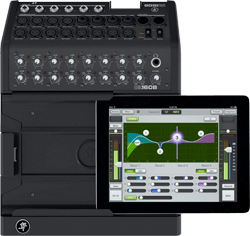 Mackie has announced an update to its Master Fader control app for the DL1608 16-Channel Digital Live Sound Mixer.
Key features:
· iOS6 support
· Added background recording
· Higher resolutionrecording – 48kHz, 24-bit option
· Rude solo and clear solo – see and clear solos from master fader area
· Improved wireless discovery and connection reliability
· Improved current parameter display
· Improved Master Channel ID button
· Output colour change for easier ID – Aux 1 and Rev outputs
Master Fader v1.2 is free and can be downloaded and installed directly to an iPad via the App Store. It can also be download via Mac or PC using iTunes.
See also: