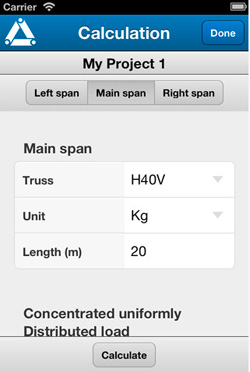 Following the release of the Prolyte Group Locator app, Prolyte has released KYLo (Know your load) calculation tool is now available as a stand-alone iPhone and iPad app.
Completely re-written, revamped and updated, KYLo offers provides real-time calculations of complex loading on straight spans. Point loads, UDL and cantilever loads can be calculated for all Prolyte truss ranges.
The handy calculation tool calculates loads on straight spans with claimed 99 per cent accuracy, along with exact loading data for UDL as well as PL and cantilevers, for all Prolyte truss series. Integrated manual, graphic display and Tips & Tricks button, make the KYLo 'fun and easy to use'.
The Kylo App (and other apps) is available through the Apple App Store. The new desktop version and the webtool will be availble soon.