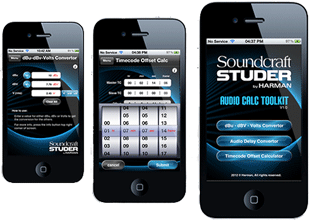 Soundcraft has launched an audio calculation toolkit app for the Apple iPhone.
Called the Audio Calc Toolkit, the app is being billed as 'an invaluable tool for audio engineers', offering converters for Volts-dBu-dBV and delay times in metres-seconds-milliseconds-feet-samples, as well as a time-code offset calculator.
Future versions of the app will expand the suite of tools with other utilities.
The Audio Calc Toolkit is available for $0.99 on the iTunes store.
More: www.soundcraft.com