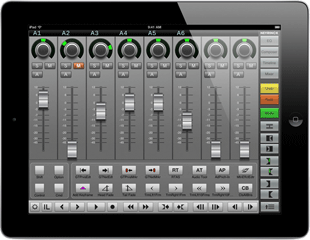 The v1.6 update of Neyrinck software's V-Control Pro iPad application has been released, bringing support for the higher-resolution iPad 3 Retina Display.
Version 1.6 of the app, which provides wi-fi control of audio and video media, includes a new set of high-resolution skins to match the new iPad 3 Retina Display which supports 2048 x 1536-pixel resolution at 264 pixels per inch. The previous iPad supported 1024 x 768-pixel resolution at 132 pixels per inch – a fourfold increase in resolution. Each DAW and Video edit app supported will have a redesigned skin to take advantage of the new iPad display, earlier iPads will display a lower-res version of the new skins. A new Midi driver improves performance and stability on Windows systems.
'It is very important I think to continually add to V-Control's growing list of control skins, allowing a wider group of musicians, engineers and editors to take advantage of the powerful control capabilities that V-Control Pro offers,' says company founder, Paul Neyrinck. 'Media Composer support confirms our commitment to video editors and Digital Performer and the Adobe Audition are two of the top audio apps out there so this is an important release'.
V-Control Pro can control a host of media applications on Macs or PCs from the iPad, and is available for $49.99 from the Apple App Store.
Version 1.6 is a free upgrade for existing users.
See also:
More: www.neyrinck.com