Remote Technologies Incorporated has ported its RTiPanel app to Android devices and the Apple iPad 3.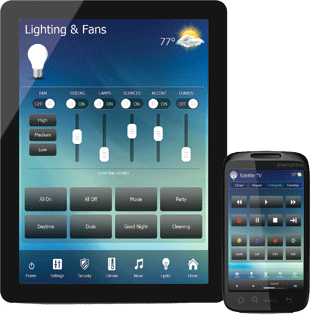 Compatible with Android smartphones and tablets of any screen size, the app boasts unique features such as two-way feedback, a customisable user interface, and optimised connection speeds to provide complete control over any RTI (Remote Technologies Incorporated) control system with an XP series control processor.
RTiPanel also has two-way feedback including cover art, weather graphics and dynamic image lists, as well as supporting connection locally via Wi-Fi and offers remote access via auto-switching Wi-Fi and 3G/4G wireless – allowing for control and monitoring from virtually anywhere in the world.
Programmed through RTI's Integration Designer software, RTiPanel can match the resolution of any screen size, including the new iPad's Retina display. This allows integrators the ability to create a unique interface designed to set their devices apart. All graphics are conveniently stored on the XP series processor and automatically download to the tablet or smartphone device when updates are made.
'Our RTiPanel app has been a huge hit since its release for Apple devices, and was named a CEDIA Best New Product in 2011,' says, Pete Baker, VP of Sales & Marketing. 'We are very excited to bring this advanced functionality to Android users, in addition to providing compatibility with the latest iPad. By allowing control and monitoring both at home and away, the app provides a perfect complement to our control systems; one which our dealers can now offer to all of their customers.'
The RTiPanel app is available now for download from Google Play (formerly Android Market) and the Apple App Store, and soon through the Amazon App Store. Installers can purchase licences online from the RTI website or from an RTI distribution partner to enable communication with their RTI control system.
More: www.rticorp.com