never.no has released Prompter – 'the world's first app giving presenters, anchors, hosts or anyone else who works on camera, the ability to use social media and interactive content on the job'.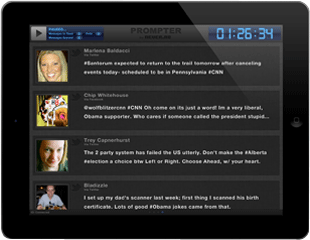 Prompter gives on-air talent a way to view real-time social media comments from viewers and fans, and incorporate that input into programmes. Incoming comments are pushed directly into Prompter on a presenter's iPad, and because Prompter is powered by the never.no Interactivity Suite, feeds and comments are filtered (automatically or manually) so that only the best content makes it to the presenter. Presenters can also use Prompter to view real-time polls with input from their viewers.
Prompter's gesture-based navigation and simplistic interface make it easy to use, eliminating the possibility of confusion or added complexity for the on-air presenters.
'Presenters are the heart of live TV, and it's certainly not an easy job, nor one that easily lends itself to multitasking,' says never.no Director of Marketing, James A Neufeld. 'Prompter was created to give these professionals an incredibly simple way to reach their audience that was previously either challenging or not possible at all.
'If presenters are the heart of live TV, social media is the pulse, and it is incredibly important for broadcasters to be in touch with their audience,' Neufeld adds. 'Prompter helps facilities meet that critical need by putting the viewers directly in touch with local hosts and national presenters alike.'
The newest addition to never.no's Interactivity Suite (IS), Prompter supports participation TV by enabling viewers to influence a broadcast in real time, and allowing them to interact with one another and the rest of the world. With IS, a broadcaster can effortlessly aggregate user-generated content from social media sites such as Twitter and Facebook into programming, and even build synchronized companion apps that enable viewers to interact with their televisions using an iPad (or tablet), PC, or smartphone.
More: www.never.no/prompter