BlackBox manufacturer JoeCo will use the coming Namm show to preview of a new BlackBox App for remotely controlling and monitoring its range of BlackBox recorders and players.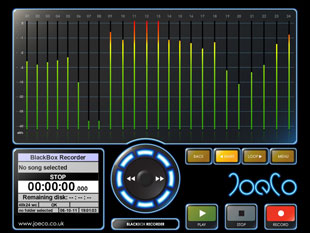 Designed for use on Apple's iPad, the BlackBox App will provide high-resolution metering on all channels and a range of transport controls for remote operation. It will also enable the BlackBox menu and set-up options to be remotely controlled.
'We want to offer users a remote monitoring and control interface that allows them maximum flexibility with the positioning of the BlackBox hardware at a venue, or on location, and that also enables the BlackBox to be operated without moving from the FOH console,' JoeCo's Joe Bull explains. 'Providing high-resolution metering – especially for 64-channel versions of the BlackBox Recorder – is of great benefit to engineers who need to monitor critical levels during a recording and, as usual, we have had input from our professional users in order to deliver software that meets the needs of busy live engineers and sound recordists.
We expect the BlackBox App itself will be free of charge, but it will require some chargeable hardware to transmit and receive the data between the BlackBox and the iPad.'
The BlackBox App is scheduled for release later in 2012.
More: www.joeco.co.uk