Tieline is to unveil two multi-user Report-IT for iPhone application packages at the 2011 IBC. These will allow broadcast networks to select the Tieline mobile codec best suited to their requirements at a lower cost per user.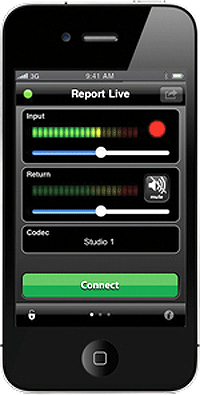 'Based on the popularity of Report-IT and feedback from hundreds of broadcasters, the Enterprise Edition is superseded by two new and improved multi-user Enterprise packages called Report-IT 10 Pack and Report-IT Enterprise 100 Pack,' explains Tieline APAC & EMEA Business Development Executive, Charlie Gawley. 'The original Report-IT Live app, used mainly by small stations and freelance reporters, has not changed. The two new multi-user solutions bring a fresh level of simplicity and affordability to what is the World's most popular iPhone broadcast application.
'With Report-IT 10 Pack you pay a very low AUD$399 for 10 Report-IT user licenses and additional license packs can be purchased and added to a broadcast network as required,' he continues. 'It is powered by our Enterprise server and is ideal for centrally managing a team of up to ten reporters from the studio using a Report-IT administrator account installed onto an iPhone. Each user account has its own login and there is no on-going subscription fee.
'Report-IT Enterprise 100 Pack is subscription-based and for AUD$1,500 per annum it can be deployed on up to 100 iPhones. It is suitable for networks with large numbers of reporters and broadcasters who install the application onto many iPhones for a variety of remote contributions by talent.
'All 100 Pack device licenses can be centrally managed via an iPhone administrator account or Tieline's new PC graphical user interface management console, which makes it easier to remotely manage dozens of user accounts and associated outside broadcast contributions. Each year when the Enterprise 100 Pack subscription is renewed an additional 100 device licenses are added to a network's license allocation.
'With both the 10 Packs and 100 Packs we have significantly reduced the cost of a user licence and increased the number of licenses available. Report-IT Enterprise 100 Pack administrators can even provide the same user login to multiple devices. Many networks requested this feature to enable them to assign a user account to a single studio codec and use this account for a number of ad-hoc contributors. This makes managing large numbers of remote broadcasts and ad-hoc contributions a breeze.
'We have listened to our customers and believe Report-IT now offers three distinct and improved product solutions for small, medium and large networks - as well as networks managing high quality audio contributions from remote sources using their iPhones,' Gawley says.
See also: