UK-based software company Audiomovers has announced its latest DAW audio tool, Omnibus, which allows audio to be routed between applications and multiple audio sources to be combined into a single virtual input.
Exclusive to Mac, Omnibus addresses the routing challenges facing anyone working with multiple audio sources in complicated software and hardware set-ups and workarounds. With its intuitive UI, Omnibus simplifies the process, allowing a uder to see where audio is coming from and going to on a Mac, and make new connections with a single mouse click.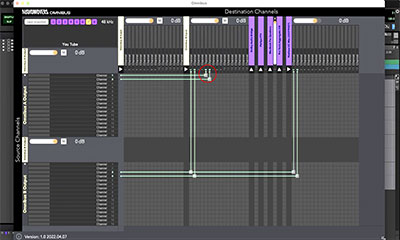 Omnibus has two virtual drivers, making it easy to send audio from point A to B in the simplest way, where it can then be recorded, mixed, compared or transmitted out wirelessly with ListenTo.
'We built Omnibus with Listento users in mind,' says Audiomovers co-founder, Igor Maxymenko. 'It's the next step in the Audiomovers' ecosystem, but it stands alone in its own right.
'Everyone told us they needed a simpler solution for routing audio within their Macs and out into the world. Our aim with everything we do is to continue to remove the technical barriers from the creative process, enabling engineers, audio pros and hobbyists alike to spend more time creating and less time fighting with their set-up.
'The software is easily configurable, allowing users to define channel layouts with channel names, volume and muting parameters – and making it the perfect tool for screencasts, managing audio for podcasts or panels and even routing audio for gaming streams all from a user's DAW. Users can save and load snapshots, instantly switching between specific routing set-ups for specific workflows that can be loaded up with a single click.'
The Audiomovers product ecosystem is supported by Abbey Road Studios: 'It's the sort of innovative software where I think people will start using it in ways we don't realise yet,' says Head of Audio Products, Mirek Stiles. 'Omnibus allows you to elegantly and quite simply, route any audio from within your Mac – like a virtual patchbay. Whether working on spatial audio or working on my next audio product, Omnibus gives me the control I need over my audio workflow, something which wasn't possible before'
Users can stream any audio on a Mac to the world with Omnibus and ListenTo working together. Omnibus can be used to split out and send multichannel audio from any DAW to the ListenTo app, and Omnibus' two virtual drivers fully support the transmission of spatial audio, be it surround, Dolby Atmos or Binaural.
Omnibus is supported on Mac OS X 10.15.7 or higher, with an unlimited number of physical devices, and up to two virtual devices.
More: https://audiomovers.com