Roland has announced the TR-Editor, a free Mac/Windows software application for the TR-8S and TR-6S Rhythm Performer instruments.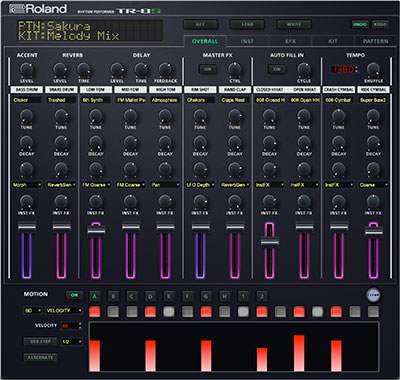 In the company's words, 'representing the apex of the Roland TR line, the TR-8S and TR-6S are the most complete drum machines to date – forward-thinking, performance-tuned instruments unlike any other'. The new TR-Editor enhances the workflow of this hands-on hardware with an easy-to-use graphical interface, expanded visual controls and organisational tools.
TR-Editor's large display and five tabs eliminate the need for menu diving and page scrolling on the hardware while designing kits and sounds. It's possible to access kit and instrument parameters on a single screen, draw motion data for instant results, and view all parameters for selected FX at one time. Undo and redo are also available for quick revisions and comparison of ideas.
The breakout librarian window in TR-Editor assists organisation and management of patterns and kits. Users can access the complete TR library and filter various instrument categories to customise sounds. Using the computer keyboard assists in quick easy naming (and renaming) of hardware patches, kits, and projects.
TR-Editor is available for free through Roland Cloud Manager, the software interface for Roland Cloud content. Roland Cloud is also the home of Sample Packs and other premium content.
More: www.roland.com