Roland has announced AeroCaster Switcher, a free iPad app that expands the production power of supported Roland A/V hardware with cable-free video connectivity over a wireless network.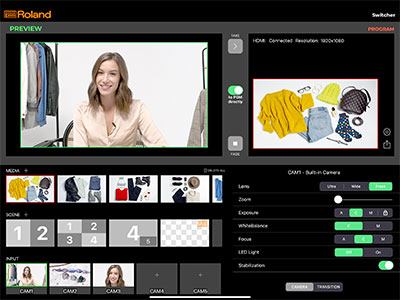 The app allows users to switch wireless camera feeds from iOS and Android smartphones and tablets, plus screen shares from computers and mobile devices. The system supports up to four wireless devices simultaneously, along with the camera on the host iPad. Roland's video technology is also available for adding graphics, titles, video clips and images.
The AeroCaster Switcher enables Roland video switching hardware users to extend their productions with the high-quality cameras in smartphones and tablets. Users can cut to handheld angles or employ widely available mobile device mounts for up-close captures of products and hands-on presentations. The app provides control of the available camera functions on each device, including focus, zoom, exposure, stabilisation and white balance.
The switcher also provides a BYOD presentation solution for wireless HD screen sharing – presenters and panelists can connect via the Google Chrome browser on computers and mobile devices. Screen sharing is fast and easy over Wi-Fi, with no cables, video adaptors, or dongles required.
The production tools in the Aerocaster Switcher app supports management of wireless sources independently of their connected Roland hardware. Up to 30 scene presets can be created with text overlays, graphics (including transparent PNG files), picture-in-picture windows or split-screen views. During an event, scenes, camera sources or iPad media library content such as video clips, photos and graphics can be selected, with a wide selection of cuts, cross-dissolves, and wipes available for transitions.
The AeroCaster Switcher and AeroCaster Camera apps are currently available for iOS devices on the Apple App Store. Android device support for AeroCaster Camera is following in early 2022.