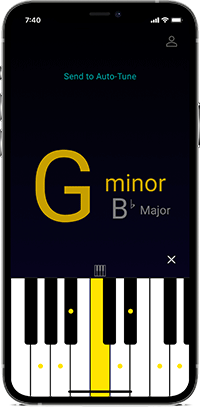 Designed as a companion app to Auto-Key desktop software, Antares Audio Technologies' Auto-Key Mobile offers a portable, easy-to-use, and accurate platform for detecting the key of any audio source. By tapping a button and offering a smartphone up to an audio source, the app will detect the musical pitch of a song, chord progression or loop, and display both the major key and relative minor.
Auto-Key Mobile will sync with every current edition of Antares' Auto-Tune and Harmony Engine software, to quickly analyse and transfer pitch information to a recording session in real time. It can also be used as a stand-alone mobile application, enabling users to identify the key of a song for collaboration, recording, or performance.
For recording and mixing engineers, Auto-Key Mobile offers an easy and immediate way to find a song's key for employing Auto-Tune within a DAW.
'From casual musicians to the most highly technical recording engineers and producers, Auto-Key Mobile is an invaluable time-saving tool that can be used anytime, anywhere, by anyone. It's like having perfect pitch in your pocket,' says Antares CEO, Steve Berkley.
Antares Auto-Key Mobile is compatible with iOS and Mac devices and is available for free download from the iTunes store. Auto-Key Mobile for Android and Windows devices will follow.
More: www.autotune.com