Roland's Professional A/V division has announced the V-1HD⁺ Remote iPad App for remote control of the V-1HD⁺ HD Video Switcher.
The V-1HD⁺ Remote provides control of V-1HD⁺ features from an iPad touchscreen – including switching video and mixing audio, specifying the video effect assigned to each video bus, adjusting audio levels, setting the degree of effects applied, triggering an external video recorder, saving and recalling the switcher's eight preset memories, adjusting the output video, and making system settings.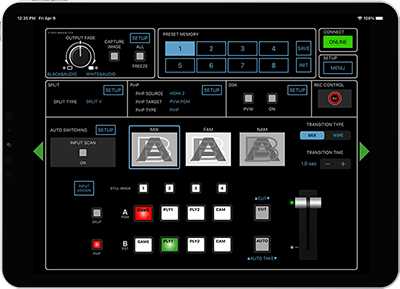 The V-1HD⁺ HD Video Switcher is the latest addition to Roland's V-series of multichannel HD video switching products. Building on the V-1HD four-channel switcher, the V-1HD⁺ provides a deeper feature set for advanced switching applications while maintaining the simple operation, professional performance, and rugged reliability. Offering versatile HDMI I/O, extensive control options, essential monitoring tools, two independent HDMI outputs and 14-channel audio mixing, the V-1HD⁺ is a compact A/V switching solution for serious visual storytelling.
The company says: 'From live events and business conferences to education settings and houses of worship, the V-1HD⁺ is inspired by the need for today's creators to do more. Four HDMI inputs are available for mixing a variety of video sources, including cameras, presentation computers, tablets, and gaming consoles. And with built-in scaling on Input 4, users can automatically sync and calibrate troublesome video sources without external gear.'
More: https://proav.roland.com