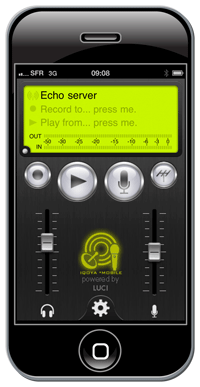 Digital and network audio broadcast specialist, Digigram, has expanded its Iqoya family of hardware and software audio-over-IP solutions with the Iqoya *Mobile iPhone App for remote Audio-over-IP field contribution.
Iqoya *Mobile effectively transforms an iPhone into a high-quality MPEG-2 L2 and AAC recorder/editor, mobile IP codec. With this app, journalists can now record audio, edit, add content and send to the studio either live audio over IP or through FTP file transfer. All that is needed is an internet connection, 3G or WiFi. According to Digigram, Iqoya *Mobile promises 'an instant professional grade contribution'solution to set up a full-duplex connection between a reporter on the field and a newsroom or studio'.
When establishing a connection from the iPhone to a studio equipped with a 100 per cent software codec (such as Iqoya V*Call), broadcasters have a complete end-to-end software system. Iqoya V*Call is an IP audio codec running on any laptop or desktop PC, optimised to interface with Iqoya *Mobile. Both solutions are N/ACIP compliant, offering interoperability and a wide choice of audio codecs to match typical broadcasters' audio quality/bandwidth requirements. Iqoya *Mobile is also compatible with third-party IP codecs in N/ACIP mode or RTP symmetrical mode.
Quick and easy to set up and implement, Iqoya *Mobile app is aimed at busy radio or web journalists, who will no longer require bulky, expensive equipment to record and file professional quality audio reports.
More: www.digigram.com